Sign sponsorship agreement AC&D Solutions and San Marino Pavilion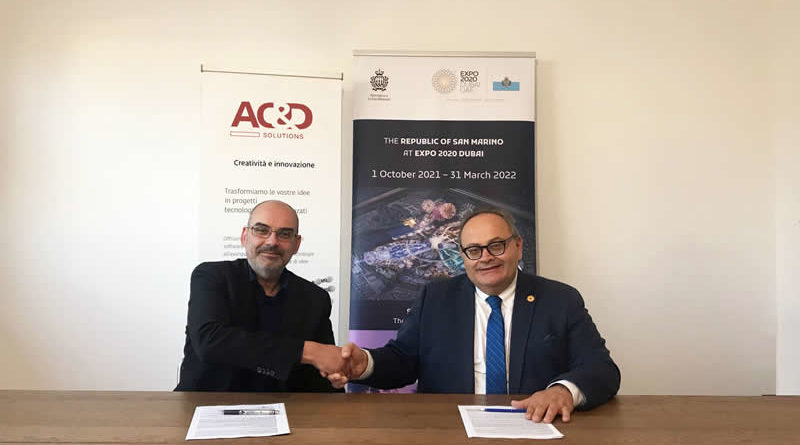 After a long year of meetings, planning activities, developing projects and creative ideas, the San Marino Pavilion finally came to life within the first major Universal Exposition in the United Arab Emirates and did so thanks to the partnership with AC&D Solutions which, represented by figure of Giacomo Vespignani, the Group's General Manager, signed the sponsorship contract with the San Marino Pavilion, represented by the figure of the General Commissioner for Expo Mauro Maiani.
With the spirit of creating an exclusive and innovative project, the AC&D Solutions Group, supported by the Roncaglia Group – Marketing and Communication and the architect Francesco Ammirati, gave life to the concept of the Pavilion with furnishings, contents, videos, images and technological solutions that enhance the history, tradition and culture of the ancient Republic of San Marino.
Giacomo Vespignani, comments on the sponsorship agreement: "The project together with the San Marino pavilion, which has seen our team actively involved for a long time, has finally reached its completion and this fills us with great pride and satisfaction. I also believe that the Arab market holds great opportunities for growth and development for our sector, which is why the new AC&D MENA headquarters in the Emirates in Dubai was born last August 2021. We therefore hope to be able to intensify our business in this new market in the MENASA area, which we have already entered with this first large and magnificent project of Expo Dubai 2020″.
"The dedication of the whole AC&D Solutions team during these two years of working together" comments Mauro Maiani "represented a fundamental element in the functioning of the complex machine of Expo Dubai 2020, which just a few days ago saw the realization of the San Marino Pavilion which is not just an exhibition area, but a space in which the physical and digital levels merge together, giving the visitor an immersive "phygital" experience on multiple communicative levels. Precisely in this regard, the AC&D Solutions group has managed to put together many elements: from the graphic panels, to the three information videos and those of the tablets of the interactive table, to the pavilion app downloadable by all visitors with extra contents and insights, ensuring usability of the contents at various levels and for the different types of visitors to the Pavilion."
Source: Expo Commissariat General
Via IV Giugno, 39/C
47899 Serravalle
Repubblica di San Marino
COE  SM 23384